Do you want to know how to deposit real money in Poker Stars?
PokerStars is a very popular online gaming site on the internet today.  Considered as the "Rock Star" of online gaming with its registered players now closely reaching 50 million, PokerStars continuously dominate the arena with its wide variety of poker games available where the real money is at stake.
If you happen to be a newcomer in Poker Stars, or perhaps in online poker games, the instructions below will greatly help you understand how to make real money deposit and cash out.
At PokerStars, the actual fun and challenge starts when you start winning real money. To deposit, one must just follow this 3 simple steps. However, you have to do this with great care and caution because the method involves money on your end:
Download the PokerStars Software

:
Type http://www.pokerstars.com/poker/download then follow the installation instructions. Once the software is downloaded, you will be prompted to create your free account. When done, you are now ready to play.  Poker Stars is available for all platforms such as PC, Mac, iOS or Andriod.

Look for the Cashier Button:  Once you are logged in, you will find the 'Cashier" button at the bottom right portion of your game lobby.  The PokerStar cashier is similar to the cashier booths in real casinos where you can buy chips or collect winnings. After clicking the Cashier button, please select "Buy Chips".

Select your Funding Options: In the "Deposits Option" page, Poker Stars will present to you all available options for you to deposit real money. Detailed on how to fund based on the options will appear when you click any of the funding logo options. Please see image below: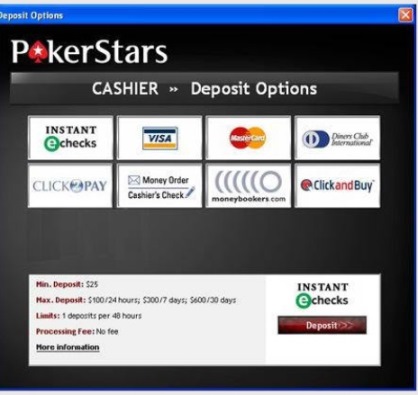 Instant Echecks:  The

Echeck

option is secured and is widely used in many online business transactions.  To use this option, you must have a blank check under your account. You need to provide the bank and routing number found in the

check

.
Credit Cards: Credit cards such as Visa and MasterCard is also an option with a $600 deposit limit per day.  Gift Cards or Debit Cards are also acceptable.
As in any other online games, playing poker at Poker Stars is a pleasurable and exciting experience. PokerStars promotes a positive, enjoyable experience. However, it is always important that, you as a player follow these golden rules of gaming:
Learn the basics
Know when to stop
Set your limits
Do not be greedy
Are you ready to play? Make a Poker Star real money deposit now.